The 2014 Orange Village Community Survey was an opportunity for public officials to gather the thoughts and opinions of residents, and help to translate them into plans and policies that reflect the goals and vision of the community.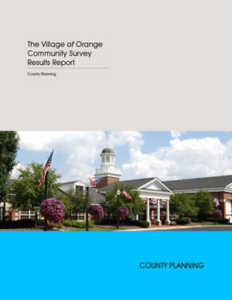 Having completed surveys in 1999 and 2007, the 2014 Community Survey is part of Orange Village's ongoing commitment to public engagement.
The printed survey consisted of 59 questions arranged by topic. An online version of the survey asked the same questions. Of the surveys mailed to the 1,282 occupied residential addresses, 474 were returned and included in the analysis for a response rate of 37.0%.
An overview of the results and a detailed analysis of the findings is provided in the Orange Survey Results Report, while additional cross tabulations are available under Additional Data.
Please contact us if you have any questions.
Download the Results Report (1.8 MB)
Additional Data (0.4 MB)