County Planning assists communities with planning services, including master plans, community surveys, and zoning regulations.
Master Plans
Map Out Your Future
You know where you want to be. We will help you get there.
A Master Plan outlines a community's vision for the future and then describes concrete, specific action steps community leaders can undertake to accomplish them. Conducting a Master Plan allows public officials to assess whether the policies and actions they are presently taking are addressing needs and accomplishing the long-term goals.
County Planning has significant experience in completing Master Plans, with over 40 years of experience developing them for communities across the county.
Community Surveys

Give Your Community a Voice
Housing. Communication. Events. Infrastructure. Know what your residents want.
A Community Survey provides an opportunity for public officials to gather the thoughts and opinions of residents or businesses. Covering a wide range of topics, survey results can guide policies or inform master plans.
 Undertaking a Community Survey allows communities to gather extensive input from residents or businesses who might not otherwise contribute to a public process. Plus, the Cuyahoga County Planning Commission has extensive experience organizing surveys that are quick, easy, attractive, and statistically valid.
Zoning Codes
Smart Regulations for Better Development
Your zoning code defines your future. We'll bring yours into the 21st century.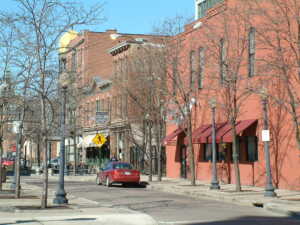 A Zoning Code is the legal framework for what a community will allow to be built. A smart code can provide flexibility for developers, a seamless process for approval, and a guidebook for quality new development. Without a modern zoning code, developers may be burdened with excessive regulation and communities may not be seeing the quality development they desire.
 County Planning can help. We can update your zoning code to fit modern development patterns, to prioritize city needs, and to provide a framework for development that will protect and enhance your community.
For more information about this service, contact James M. Sonnhalter.